Raise your voices!  Get Out the 2020 Vote!
The November 3rd election is the most important election
in our lifetime for women and families!
Title IX guidelines have been weakened in protecting college women from sexual assault. Access to complete healthcare for women is being threatened depending on your zip code. Domestic and gun violence against women is increasing. Voters rights are being denied or suppressed. Public school funding is being diverted to private schools. Student loan providers are not being held to fair lending standards. Paid Medical and Family Leave and paid sick leave is not a priority for legislation by current government officials and agencies.
Ways to VOTE 
1. Vote by Mail is highly recommended as a secure, safe, virus threat free method of voting. Voter signature verification by election judges when ballots are received, prevents voting fraud. Voters must sign the envelope containing their ballot. This signature is compared to their signature on record in voter files. Many counties have locations of locked ballot collection boxes if you do not want to mail your ballot. Contact your county election officials to request a Vote by Mail ballot and get complete information.
2. Early Voting Avoids the Crowd. Everyone will be wearing masks, socially distancing and using hand sanitizer. Election judges will be disinfecting the voting equipment frequently. More early voting days and locations will make it  easy to avoid lines and crowds.
3. Vote on November 3, 2020 Election Day This day will be an IL state holiday so more locations like school gymnasiums will be available; hopefully using larger spaces in order to accommodate social distancing. Some polling locations will probably change from last year.  Check your county election web site for up to date information.
Prepare to Vote – Know your candidates' position on AAUW Issues
Use the AAUW-2020-Voter-Issue-Guide to review the issues to prepare to interview a candidate or research their positions on their web site or Facebook page.
Other sources of information are the League of Women Voters web site Vote411.org
Candidates are sent a questionnaire. The candidate's answers are posted. If they did not respond, it is noted.
O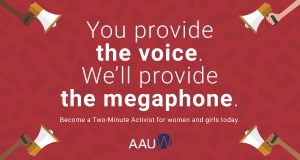 n Capitol Hill AAUW's advocacy tools make it easy for you to keep informed on the latest legislative issues affecting women and families and to take action.
With AAUW's Two-Minute Activist, it takes just two minutes to make a difference — one minute to read, one minute to act. Join the AAUW Action Network to receive alerts about congressional actions that impact women and families.
Locate your members of Congress and get your e-mail in the express lane to the Hill.